Content Marketing ROI: Maximizing Return on Content Marketing
by gardenpatch Insights on Dec 2, 2022 6:40:33 PM
While traditional media still has its place in the world, it's simply not as effective as it used to be. On the other hand, content marketing is one of the best ways to get your business in front of a larger audience. In fact, 64% of the most successful B2B marketers have a documented content marketing strategy.
The benefits of publishing original content are numerous. Here are some of the most important:
Original content attracts valuable links and social shares on social platforms, which improves your site's SEO.
Original content drives brand awareness and builds trust with potential customers.
Original content helps you stay relevant in your industry or niche, which is especially important for growing brands and small businesses.
You can repurpose original content for other platforms and social media networks.
What Is Content Marketing?
Content marketing is a strategic approach focused on creating and distributing valuable, relevant, and consistent content to attract and retain a clearly defined audience.
---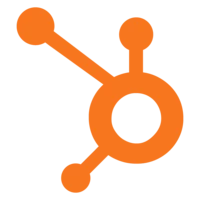 Align Marketing and Sales with HubSpot
Break down silos and align your teams on one integrated platform. HubSpot's software solutions seamlessly connect your departmental data to help you create an exceptional customer experience. Click here to learn more about HubSpot.
---
Content marketing is an investment. It takes time, effort, and resources to create and distribute content that will be effective in helping your company increase brand awareness and drive sales. But it's a great opportunity for brands to boost their social media presence, social media reach and introduce their products and services to new people. That's why content marketing should be the core of your digital marketing.
The key to content marketing success is having high-quality content that educates, informs, entertains, and inspires people to take action.
Content marketing generates over 3x as many leads as outbound marketing and costs 62% less.). Yet, a lot of people need help to improve content marketing ROI.
The good news is that there are a variety of different ways you can improve your content marketing ROI. Below are some tips your company or brand can use to maximize the ROI of your content marketing efforts.
Are you keeping up with the pace?
In 2020 companies have been producing more content for their consumers on a more consistent basis. As more potential customers turn to Social Media as a way to engage online, businesses had to meet the demand. It's essential to take the conversation to your customers. Having specific content enhances the opportunity of reaching your targeted audience. Incorporating content pillars is a great way to maximize your content assets. A content pillar is a substantive and informative piece of content on a specific topic that can be broken into many derivative sections, components, and materials. It allows blog posts to have supporting elements that help attract different kinds of buyers through various channels.
How to create a Content Pillar for your next Content Marketing Strategy
The first step in planning your content pillar is figuring out how you will create that more extensive piece of content and strategizing how to get the most out of every section. You can use helpful tools such as MarketMuse, WordStream Advisor, and SE Ranking, to help you create the most relevant content on any topic.
As you approach the content creation process, remember that your pillar content articles should be so helpful that members feel compelled to bookmark your page. According to Single Grain, only 80% of people will read a headline while only 20% click to read the rest of the blog post.
Your pillar page content should be the lead generator. It helps you establish authority and speak directly to people who are most likely to be interested in your product or service. Once you have created your pillars, you want to make sure you promote it on social platforms. Share the content in your online business groups. If the members find it valuable, they will likely share it on their media and increase your content's chances of getting more exposure.
With the ever-growing competition with who gets to the top of the search list, companies are finding ways to utilize the assets they create more effectively. Hyperlinking other blogs in your content is a great way to make your content more valuable.
Develop a Content Marketing Strategy
The key to developing an effective content marketing strategy is identifying your target audience and their pain points. Then, you can create quality content that meets those needs.
Content marketing is an incredibly effective way to help you build trust and relationships with your audience. Yet, only 40% of B2B marketers have a documented content marketing strategy.
1. Define Your Goals And KPIs
Before determining what kind of content you need to create, you must first understand what your business is trying to accomplish. A good place to start is by defining your objectives. This will also help you to later decide on what content marketing metrics are most important to you. Then, you can identify the best way to achieve those objectives with your content strategy. For example, if your objective is to increase sales by 10% over the next year, your plan must align with that goal.
You need to identify the relevant KPIs you'll be measuring for each goal. This is a good way to track your progress and ensure you're headed in the right direction.
2. Identify Your Target Audiences
If you don't know your buyer personas, you can't sell to them. However, once you know who they are, you can create great content that addresses their needs. The first step towards writing compelling content is finding out precisely what topics resonate most with your target audience.
A buyer persona is a fictional representation of your ideal customers. It is based on research and data about their behavior, attitudes, and motivations. To identify your buyer personas, you can tap into your employees who interact with customers regularly. Google Analytics is also a powerful tool that you can use to create buyer personas.
3. Choose Relevant Distribution Channels
What are the best places to reach my target audience? Are they on social media platforms like Facebook? Or would they respond better to email newsletters?
The best way to distribute your content is to use multiple channels. The more channels you use, the broader your content reach becomes, and the more opportunities you have to get found.
Here are some questions to ask yourself when deciding on distribution channels:
How active is my target audience on social media?
How much time do they spend there?
What types of content do they share?
Consider that 90% of Gen Zers and millennials use Instagram daily. If those groups fall into your target audiences, Instagram would be an ideal social media platform to distribute your content.
4. Develop A Content Calendar
A content calendar will help you track your topics and content creation.
The key benefits of a content calendar are:
You can quickly identify what needs to be done, who's responsible, and when it needs to be done.
You will be able to measure the performance of different pieces of content. For example, you can track how much traffic a blog post drove to your website or landing page.
5. Create Content that Connects with Your Audience
You will have determined what content types and channels you'll be using by this point. And this knowledge should guide your content creation efforts.
6. Promote Your Content
You can promote your content using a variety of different methods to reach as many people as possible.
Send an email to notify your subscribers.
Share on social networks.
Create other blog posts that mention your new piece of content and link to it.
Reach out to influencers in your industry and ask if they'd be willing to share the article with their audience.
7. Measure Results
The question is not whether you should measure the results of your content marketing but how you should measure them.
Using Google Analytics or a similar tool, you can look at the following data points to understand what's going on with your content marketing efforts:
Number of visitors
Number of leads/traffic source
Average time on your site
---
---
Content Marketing Partnerships
If you're looking to grow your business, content marketing is a great way to do it. But what if you don't have the time or resources to create your own content?
Content partnerships are one of the best ways to reach new audiences and increase your visibility. When you work with a content partner, you contribute high-quality content to each other's sites. For example, if you have a cooking blog, it would make sense to co-author an article with a recipe blog.
1. Content Partnerships Help You Attract New Customers
They allow you to leverage the audience of another company or brand and expand your content's reach. In turn, this can help you grow your audience and build your brand.
2. Content Partnerships Help You Build Relationships With Other Brands
Building relationships with other brands can significantly benefit your own and provide wider exposure.
Content partnerships are a great way to build relationships with other brands, especially if you work together on a blog post or video that you can share on your own websites and social media channels. This will help increase awareness for both of your companies and create leads for each other over time.
3. Content Partnerships Can Help With Your SEO Rankings
The more links you have pointing back to your site, the better it looks to search engines like Google. So if you partner with other businesses with large followings, your content will be more likely to rank higher on search engines.
Choosing A Content Marketing Partner
When considering potential partners, it's important to think about how well your business aligns with theirs. The right partner will help you grow your business, build brand awareness, and establish yourself as an authority in your industry.
The Value of Content Optimization
You can create the best content in the world. But, if it doesn't get found by your target audience, it will only do you a little good.
There are two main reasons why it's necessary to optimize your content:
It increases engagement with your target audience.
It improves search engine rankings for more organic traffic.
Content optimization on a regular basis is crucial for content marketing success. Google's search algorithm uses over 200 factors to rank websites. Optimized content gives Google a better understanding of what your site is about, which makes it easier for them to serve up the right content to searchers.
When your website's content is optimized for specific keywords, it increases the chances that search engines will find it relevant and rank it higher in their search results. This makes it easier for users to find your site when their search queries are related to those keywords, increasing traffic and leads.
Repurposing Content
When you present an existing piece of content in a new way, you're repurposing it. Creating new content can be time-consuming and expensive. It requires research, writing, and editing, which all take time and money to do correctly. For instance, repurposing popular blog posts is often much simpler than creating new material from scratch.
You improve your search engine optimization efforts by repurposing content into different formats. After all, the more times you can get your site indexed by search engines, the better your ranking chances.
Increase Your Organic Reach With Repurposed Content
A study by BrightEdge found that organic search holds a 53.3% share among traffic sources.
Let's say you've written a blog post on how to make the perfect cup of coffee. That's a great piece of content for the segment of your audience that enjoys reading articles. But, if you turn that post into a YouTube video or infographic, you can appeal to different people and their content consumption preferences. Moreover, by publishing your content on different platforms, you can reach wider audiences and improve organic visibility in the SERPs for your brand.
Define The Customer Journey
The customer journey is an integral part of your content marketing strategy. It helps you understand how your target audience interacts with your business and what they're looking for at each stage. When aware of these factors, creating relevant and helpful content that meets their needs is easier.
But what does this mean? And how do you define the customer journey so you can deliver the right content to the right people at the right time?
The better you are at mapping the buyer's journey, the easier it will be to deliver targeted content that meets their needs. For example, if someone just received an email from you with an offer on one of your products or services and clicked through to learn more about it, they probably still need to be ready to buy. But they may be interested in receiving additional information or offers via email or social media. That way, you position your brand to be top of mind when they're ready to purchase.
Leverage User-Generated Content (UGC)
User-generated content isn't only helpful in turning your best customers into brand advocates. It increases your engagement on different social media platforms. Plus, UGC can help your brand's social media pages attract new followers and get your content in front of a large audience.
It's one of the most effective ways to create a brand voice and build a community. But there's one thing that most people don't realize about this type of content: it can also be used to improve your ROI from other types of content.
79% of people say UGC highly impacts their purchasing decisions. In an age where product reviews and influencer recommendations massively impact purchase decisions, it's the best time to leverage your brand's UGC content creators.
User-generated content has several benefits:
Companies get a better understanding of their customers' needs and interests. This insight can help marketers craft more targeted messages and content that can lead to stronger customer relationships.
It enables brands to build a community around their products or services. This creates brand advocates likelier to share positive experiences about your brand across different channels.
Conclusion
At gardenpatch, we understand that content marketing is a long-term strategy that requires consistency over time. So we're here to help you develop a content marketing strategy that will fuel your company's growth for years to come.
Contact gardenpatch today for a content marketing strategy tailored to your brand that can help you maximize the return on your content marketing efforts!