Chat Response Rate: Tactics to Elevate Engagement and Retention
by gardenpatch Insights on May 3, 2023 6:23:38 AM
Consumers expect real-time, personalized support whenever they engage with a brand online. Meeting these rising expectations with effective conversational marketing is essential for earning trust and loyalty.
Implementing website chat enables convenient, one-on-one assistance for site visitors. With chatbots or live chat, customers can get instant answers to questions about navigation, products, or services. Fast, individualized support improves the visitor experience, leading to higher satisfaction and conversions. Chat also provides valuable visitor data to refine interactions over time.
Implementing website chat enables convenient, one-on-one assistance for site visitors. With chatbots or live chat, customers can get instant answers to questions about navigation, products, or services. Fast, individualized support improves the visitor experience, leading to higher satisfaction and conversions. Chat also provides valuable visitor data to refine interactions over time.
An optimized website chat strategy delivers the just-in-time, human-centered service that builds lasting customer relationships. By pairing empathetic service with digital convenience through chat, you can exceed expectations and gain a competitive advantage. When integrated effectively, website chat becomes a powerful conversational marketing channel for sustaining engagement and accelerating business growth.
You may have even been using a website chat system to help with your online customer service for months now, but aren't getting the results you desire. If this is the case, then you'll find the following guide helpful. Let's explore some of the ways you can improve your website chat response rate.
---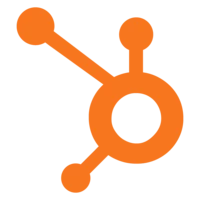 Grow Faster with HubSpot:
Accelerate your business growth by leveraging HubSpot's powerful marketing, sales, and service CRM tools. HubSpot provides everything you need to attract, engage, and delight customers. Click here to get started with HubSpot.


---
Experiment with Your Chat Widget
It's not enough to install a chat widget on your website. This isn't going to immediately invite customers to chat with your brand. This is why we recommend conducting experiments to see what yields the best results.
Creating a custom widget that suits your target customers is key to getting them to engage. This includes customizing your greetings, branding, and chat button labels. You may find that a simple tweak makes your chat widget more attractive to visitors. You can even go as far as to include real photos of the agents they're speaking to in order to instill trust.
Promote Your Live Chat Feature
If no one knows your live chat feature is there, how will they know to use it? With proper promotion, you can invite new visitors to engage with your live chat system. There are several ways you can increase awareness.
For starters, there should be a clear and visible chat bar at the bottom of the screen that's properly labeled. For example, you can label it "Get Live Help" or "Speak to an Agent."
Another option is to advertise it in a pay-per-click (PPC) campaign. No – you don't have to go all out with a campaign advertising your live chat widget. But it is a good idea to talk about it in your ads. For instance, you can put in a line that live help is available now. Ideally, you should only display these during the hours your live chat is in operation. Be sure your ads are highly targeted so you don't waste ad dollars on irrelevant traffic.
Be the First to Engage
In sales, you don't wait around for customers to contact your business. You have to proactively reach out to prospects and get them to engage. This is especially since at least 83% of online shoppers need support while completing a purchase.
Leaving your visitors alone during this process could mean higher abandoned cart rates. Again, don't expect customers to always reach out to you when they need help while shopping. Instead, you should have your web chat pop up, initiating contact. This can work when visitors first reach your site. And it can work by popping up at critical times. For example, you can engage with users who are on a particular page, have items in their cart, or have been on a particular area of the website for a specific amount of time.
Personalizing your web chat with key triggers is an excellent way to capture moments and increase the chances of them engaging. The idea is to initiate contact when they need you most. Pay attention to the behaviors of your visitors to see where drop-offs in engagement occur. Are they leaving your site before checking out? Then popup after 5 minutes of inactivity after a visitor places items in their cart. Your goal is to be a resource to your visitors. See if they have questions or concerns or need assistance with the process.
Ensure You're Mobile-Friendly
Your website chat feature should be accessible to users on all devices. And if you have a business app, then it's a good idea to implement a chat widget on there as well.
If you ignore being mobile-friendly, then you run the risk of losing potential engagement with your visitors. The key is to be wherever your prospects are – your website, your app, and even on social media. The more accustomed they become to communicating with your brand online, the more likely they are to reach out to you on their own.
Go Over Your Analytics
It's not enough to only track and monitor your website traffic activities. You also have to keep a close eye on your agent activity. There's a lot you can learn about your customers by looking at their past interactions with your live chat agents.
For instance, you can gain insights into their needs so you can better understand how to serve them. Some of the data you want to analyze includes chat wait times, missed chats, frequently asked questions, and customer satisfaction rates.
In order to measure customer satisfaction, you can include a quick survey about their experience. Maybe ask users to rate their chat session and ask whether their needs were met. Leave a comment box so they can explain if there's an issue. With the data you collect from your chat box analytics, you can make improvements to your process and system to boost visitor engagement.
Be Available When Visitors Need You
Having a live chat feature on your website is pointless if it's not available when your prospects need it the most. You may decide you want to have your agents on your website chat only during business hours. But if the majority of your prospects are on your website after business hours, then you're missing grand opportunities to aid them during their shopping process. This can be the difference between losing customers and winning them.
Instead, you should go over your website analytics to see when traffic spikes and sales occur during the day and week. If your company is closed on weekends, then it's a good idea to hire virtual agents to handle your messages. There's nothing worse than being asked to leave a message because all of your agents are away for the day (or weekend).
Today's consumers are looking for speedy communications. If you're typically available from 9 am to 5 pm, consider extending the chat availability to 9 pm or 10 pm. You can also make it available on weekends until 11 pm. But this is all based on when your prospects are actively shopping on your site for products and services. You can be sure your competitors are online so don't let them snag opportunities that could've been yours. Just make sure your hours of operation are visible on the chat widget so users know when to expect your return.
Reduce the Number of Fields on Your Chat Widget
When a visitor engages with your live chat box, they want to get in touch with an agent as soon as possible. But this is hindered when they have to fill out a long-form. There are key details you should collect from your visitors to use for analytics and to enhance customer service.
For example, you can ask for their name and email address. But do you need their phone number? Stats show asking for phone numbers can decrease conversions. The visitor is here and willing to talk with an agent from your brand. There's no need to ask them for their contact details other than their email, which you can use to email the transcript.
The point is to make the live chat experience as seamless and quick as you possibly can. The fewer fields they're required to fill out, the better. Or better yet, you can eliminate the form altogether.
Include Your Chat Box On Every Website Page
You never know when your visitors may need assistance from a live agent. So make it easier on them by having your chat box on each page of your website. Visitors shouldn't have to backtrack to find where they last saw your chat box.
Place a noticeable bar at the bottom or side of the screen where they can easily see it. It's a good idea to have the widget popup with a greeting after the visitor first enters the site. This way, they know it's there. Make it easy for them to exit out of the chat if they're not ready to use it yet. But don't have it disappear – it should slide down into its position on the screen and have proper labeling.
---
---
Integrate Live Chat in Your Social Media and Email
There are plenty of opportunities to promote your live chat feature. In your emails, you can promote your live chat feature by including it in your signature.
Maybe prospects would rather connect with your brand in a live chat versus conversing via email. Some may not have known the live chat feature existed. The same goes for your social media channels. Include a link to your live chat in your bio. There are also live chat buttons you can integrate on certain platforms, such as Facebook, LinkedIn, Twitter, and Google+.
Include Indicators to Show Responsiveness
When a visitor opens your chat box and initiates a conversation, there should be indicators to let them know how long they must wait and when an agent arrives. Be sure to watch over your metrics to see how you can improve customer wait times so it doesn't scare them away.
Also, a typing indicator will notify the user that the agent is responding. This way, they don't click away thinking they're being ignored or forgotten. The typing indicator can also help your agents identify when the user is responding. You don't want to interrupt them when they're explaining their issue or question.
If your chat widget requires users to hit the send button to submit the message, let them know. You can have a notification pop up once they begin typing or have a label displayed somewhere that's visible but not in the way. This will help improve your agents' interactions, especially since they're likely juggling multiple conversations at once.
Creating a Customer Experience that's Engaging
Your customers are people with needs. Learning what those needs are will help you to implement the best methods to engage and appease them. If you want to drive more interactions to your website chat widget, then these tips can help.
Having a strategy surrounding your live chat box is key to driving awareness, traffic, and ultimately, conversions. However, if you don't have the time or know how to do this on your own, you can always enlist the help of experts.
The professionals at gardenpatrch can analyze your website and chat box metrics, as well as your overall business to develop a solid plan to deliver on the expectations of your business and its customers.
Ready to improve your website chat response rate? Then get in touch with us today!