Content Ideas: Finding Concepts to Boost Your Content Growth Strategy
by gardenpatch Insights on Nov 9, 2023 6:37:18 AM
Did you know that content marketing is one of the top lead generation tools out there?
If you want your website ranking on search engines, you need a good content marketing strategy. But, before you get to that point, you need to have great content that attracts your audience to your site.
And, great content is nothing without having topic ideas and blog content ideas to write about.
The problem is, great ideas don't just pop into your head on demand.
Why do you need a process to generate content ideas?
Like many other content marketers, you probably wear many different hats.
You have to write blog posts, produce podcasts and record webinars. Coming up with content ideas for all of those initiatives can be daunting at times.
And if all of that wasn't enough, ideas can't just be original; they must also correspond to your buyer persona's needs and your overall marketing strategy.
Plus, having a process in place will allow you to scale. When you are growing a business, clients come when you least expect them. One week, you were creating content for 5 clients, and the next you have 3 more.
---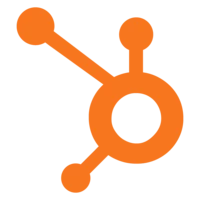 Grow Faster with HubSpot:
Accelerate your business growth by leveraging HubSpot's powerful marketing, sales, and service CRM tools. HubSpot provides everything you need to attract, engage, and delight customers. Click here to get started with HubSpot.
---
How do you keep up with all of these content demands? Having a content idea generation process will enable you to have a predictable and constant flow of ideas for all your content marketing efforts.
How do you create relevant content?
When it comes to creating content that will rank in Google and engage your audience, it's important to focus on a few key factors:
1. Identify Your Target Audience and Their Interests
The types of content you create should be geared toward your target audience. Great content will always focus on a specific audience. It's impossible to speak to everyone. Great content is focused on a specific topic and delivers its message in a clear and concise manner. By staying focused on one topic, you can provide valuable information to your audience without overwhelming them with too much information.
Start by identifying your target audience and their interests. What topics are they interested in, and what questions do they have? Use online tools, such as keyword research tools or social media listening tools, to help you understand the needs and preferences of your audience. Once you have a good understanding of your audience, you can create content that addresses their interests and concerns.
2. Follow Industry Trends and News
Another effective way to generate suitable new content ideas is to keep an eye on industry trends and news. This can help you stay up-to-date on the latest developments in your field and provide valuable information to your audience. This approach is a great way to create content that helps you stay ahead of the competition and establish yourself as a thought leader in your industry.
To make sure your content is timely and relevant, focus your content strategy and social media marketing on current events and news. As well as producing evergreen-style content that is timely. One of the most important things is making sure you are writing about trending topics that are relevant to your niche.
3. Take Notes From Your Competitors
What topics are your competitors covering? How are they presenting their content? By analyzing your competitors' content, you can get a better understanding of what works and what doesn't in your industry. You can then use this information to create unique and engaging content that sets you apart from them.
4. Use Social Media to Your Advantage
Social media platforms, such as Twitter, Facebook, and LinkedIn, can be great sources of inspiration for content ideas. By following relevant hashtags and engaging with your audience, you can learn about their interests and concerns and use that information to generate content ideas.
Take advantage of user-generated content. Encourage your audience to submit their own content, such as blog posts, videos, or photos. This can not only provide you with a steady stream of content ideas, but it can also help you build a strong community and foster a sense of engagement with your brand.
5. Identify Gaps In The Market
Look for gaps in the market. Is there a particular topic that is not being covered in your industry? Or is there a different angle you can take on a popular topic? By identifying gaps in the market, you can create unique and valuable content that resonates with your audience.
---
---
6. Understand The User Intent



As a content marketer, you want to make sure you are hitting the right spot when it comes to producing content.
What better way to do that than by addressing the exact questions that people are asking for on search engines?
Now, you may be wondering, how do I find those relevant searches?
SEMrush
The topic research tool within SEMrush's platform will show you exactly which searches are being made about a specific keyword or topic in real-time.
You can find thousands of questions in relation to any topic, these questions can work as content ideas, not just for blogs but for guides and even webinars.
Answerthepublic.com
Answerthepublic.com is another tool specifically designed to show you the relevant searches and questions that people are making on a specific topic.
Google Search Console
If you have access to Google search console and is properly linked and verified to your domain, you should be able to see queries Google users search to find your website. It will also show you the current topics you are ranking for.
This will give you an idea of what your audience is interested at the moment and guide your idea-generation process.
Google Search
Use Google's own search bar. You don't even have to go too far as to use a specific tool.
Just type into Google's search bar whatever query you think is most relevant to your buyer personas, and it will immediately show the most relevant questions in relation to that query.
You must pay close attention to what your intended audience is searching for on search engines. Specifically, HOW they are searching for it and the search volume of each topic.
If you know how your customers are searching for topics, you will understand how to create content for them.
Pro Tip:
Use relevant keywords. Keywords are important for search engine optimization (SEO), as they help Google understand the topic of your content and index it properly. However, it's important to use keywords in a natural way and not just cram them into your content for the sake of SEO.
7. Use Content Idea Generator Tools
There are various paid and free tools online, such as the HubSpot Blog Idea Generator, that can help you generate content ideas based on keywords or topics. These tools can also be a great way to quickly come up with free content topic ideas and jumpstart your content creation process.
8. Ask for feedback and suggestions from your audience
Your audience is a great source of inspiration for content ideas. Consider asking for feedback and suggestions on social media, through surveys, or by inviting your audience to submit ideas directly to you. It's also important to engage with your audience and encourage them to interact with your content. By engaging with your audience, you can build relationships and foster a sense of community around your content.
9. Collaborate With Other Content Creators
Partnering with other content creators, such as influencers or industry experts, can be a great way to generate new ideas and create fresh and engaging content. By working together, you can bring different perspectives and expertise to the table and create content that resonates with a wider audience.
Conclusion
Having processes in place to generate content ideas is essential for any business or organization that wants to scale its content marketing efforts successfully.
By regularly coming up with new ideas and staying on top of industry trends and audience preferences, you can create content that resonates with your audience and helps you achieve your goals.
Whether you use social media, industry research, or content idea generator tools, having a process in place to generate content ideas can help ensure that you always have a steady stream of ideas to work with.
Overall, having processes in place to generate content ideas can help you stay ahead of the competition and provide valuable and engaging content to your audience.
At gardenpatch, we love seeing businesses grow, and we understand that content ideation is just one part of the content marketing puzzle. Let us help you elevate your content and business to the next level. Talk to one of our growth specialists today!