Holiday Email Marketing: Strategies to Boost Seasonal Sales
by gardenpatch Insights on Nov 23, 2022 9:00:00 AM
Every year, holiday sales have risen. As a result, retailers were afraid last year the epidemic might reduce Christmas sales in 2021. However, the exact reverse happened. Despite a global pandemic, Christmas sales increased at a rate that was more than double the year-over-year rise of recent years. 2021 holiday sales surpassed the National Retail Federation's projections. Effective email marketing campaigns helped drive these impressive holiday sales, as retailers leveraged personalized messages and promotions to engage customers. With strategic email nurturing and offers timed for peak buying periods, retailers were able to connect with loyal shoppers and even win new ones despite challenges. The success of 2021's holiday sales shows the power of integrated digital strategies, with email marketing playing a key role.
Consumers have formed long-term routines surrounding Christmas shopping, as seen by the rising trend in holiday sales. Therefore, your business will be in a great position to boost holiday sales in 2022 if you have a robust holiday email marketing strategy. Let's look at creating that approach with some Christmas email samples.
With each passing year, holiday sales rise. Despite the epidemic, internet sales increased by a factor of two! But how do you build on that in your business? Let's take notes on the effective, entertaining ways to improve your Christmas email marketing campaign. Let's get started!
---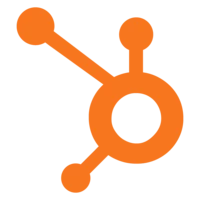 Align Marketing and Sales with HubSpot
Break down silos and align your teams on one integrated platform. HubSpot's software solutions seamlessly connect your departmental data to help you create an exceptional customer experience. Click here to learn more about HubSpot.
---
Why Email Makes the Best Holiday Marketing Tool
While all marketing methods have advantages, email is particularly well suited for holiday sales promotion. In addition, the pandemic's acceleration of consumer behavior trends has further cemented email's status as the greatest holiday marketing tool.
Emails for Our Mobile World
In 2021, mobile shopping exploded since many individuals were hesitant to purchase in person. This tendency toward mobile purchasing is unlikely to wane for the 2022 holiday season, with the epidemic persisting into this fall. Furthermore, the introduction of improved in-app purchasing experiences from mobile-first social media platforms like Instagram and, more lately, TikTok appears to have solidified this mobile shopping trend.
Email is designed specifically for customers who purchase on their smartphones. Since 2019, mobile devices have opened more emails than desktop clients. However, it's only one step from opening an email to taking advantage of a holiday sale. Consumers may start buying on their mobile by simply pressing the "Buy Now" button in an email with responsive, ready-made email layouts.
Emails Offer Instant Buying Options
According to Forbes, 2020 has accelerated and entrenched a fundamental holiday buying habit, cheap shopping. This shows customers are eager for flash bargains and rapid purchasing possibilities around the holidays.
Email is a suitable medium for marketing such bargains and "instant buys." Instant purchase alternatives are available in emails, with businesses allowed to include "Buy Now" buttons that direct readers to their shopping cart.
Personalization Makes Email More Effective and Efficient
Marketing personalization is another significant trend that will continue. In contrast to social media and advertising, email is one of the few marketing platforms that allows for extensive personalization.
According to the research, personalized emails enhance KPIs across the board, from an 8X increase in click-through rates to a 6X increase in transaction rates.
Email is the best way for retailers to take advantage of the success of customization in holiday marketing.
Holiday Email Marketing Strategies for Your Best Holiday Sales
How can you make the most of your email marketing this holiday season? First, we looked at what worked best in 2022 and how companies might use these ideas in 2023.
Write Subject Lines Your Subscribers Can't Resist
The first obstacle to email effectiveness is the subject line. Your subject lines must be optimized for open rates to promote holiday sales through email marketing. Personalized subject lines (such as incorporating the recipient's name) have been shown to enhance open rates by 26%.
One method is to employ "power words." Power words refer to topics that are on people's minds at this time of year:
Sales-Driven: Hot deal, promotion, discount, savings, free shipping
Timeliness: Order now, limited-time, today-only, last minute, open now, exclusive
Holiday: Good cheer, 12 deals of Christmas, season's greetings
Words of Gratitude: Thank you, appreciation, your support
Finally, if emojis are appropriate for your company, utilize them.
Emojis have been demonstrated to raise open rates by 45 percent! Surprisingly, the snowman is the most popular emoji, which works particularly well in Holiday email communications.
Promote Black Friday and Cyber Monday Sales Early
Cyber Monday is now the largest shopping day for e-commerce, with Black Friday in second place. In recent years, however, a tendency has emerged to extend single-day discounts to multiple days or even weeks. Starting in 2021, more merchants than ever before offered week-long Black Friday or Cyber Monday bargains. They claimed a desire to decrease crowds during the outbreak. As a result, companies could also consider increasing or extending their email marketing campaigns, given that these large deals are starting earlier than usual.
Additionally, consumers who shop from your company for the first time on Black Friday or Cyber Monday are said to visit your website before the sale to research what they want to buy. Therefore, companies must begin publicizing these major promotions as soon as possible to warn consumers and give them enough time to plan their purchases.
Send a Holiday Gift Guide
As the holiday season approaches, many people suffer "holiday gift anxiety," a well-documented phenomenon. This type of anxiety is characterized by a lack of knowledge about what to purchase for loved ones. Brands may address this issue by sending gift suggestions to their email lists, which can relieve subscribers of some of the choice paralysis that comes with shopping for holiday gifts.
Brands may even send numerous gift suggestions tailored to a specific customer. Brands might, for example, curate gift suggestions based on:
Price point (gifts under $50)
Relationship (gifts for mom, boss, husband, teacher, clients, employees, etc.)
Hobbies or interests (gifts for people who love camping)
Age group (gifts for teens, seniors, etc.)
Product type (electronics, clothes)
Utilize Last-Minute Deals
In 2021, the majority of customers waited until the final two weeks before celebrations to purchase gifts. To cater to last-minute buyers, businesses should continue promoting festive specials until the holiday. Furthermore, the last-minute shoppers planning to shop in person may be because they were concerned an internet present would not arrive on time. With this in mind, brands could promote last-minute bargains, especially for in-person venues.
Relieve Online Gift-Giving Worries
Most consumers feel comfortable purchasing online, according to the e-commerce boom of 2021. Nonetheless, some of the population remains hesitant to purchase gifts online. The following were the top two concerns:
Will my gift arrive on time for the holidays?
Will this gift be easy to return or exchange?
Smart businesses can alleviate these concerns by proactively addressing them in holiday sales emails.
Send Click-Through Traffic to a Dedicated Purchase Page
Don't waste time creating a great email marketing approach to have consumers unsubscribe after clicking through. Be sure to create a specific landing page for your email campaign instead of directing click-through traffic to your website homepage. This way, customers will have to browse to discover the product or deal mentioned in the email. Customers are confident that they hit the proper button when your email matches your landing page, and friction in the conversion process is reduced.
Send Post-Holiday Emails
Post-holiday emails can serve two purposes, both tied to driving repeat customers:
Engage subscribers who joined your list for a great holiday deal and nurture them to become repeat, long-term customers
Signal a "return to normalcy" for long-term subscribers who look forward to receiving your regular, non-holiday emails
Though increasing holiday sales is a wonderful short-term aim, the repeat customers who remain around after the holidays will help you grow your company's profitability. In addition, because recurring customers are more likely to convert than new visitors, you may earn more purchases with less time and money spent marketing to them.
Appeal to Value-Based Consumers Through Alternative Holidays
Modern consumers view big shopping days like Black Friday and Cyber Monday as excess consumerism, out of sync with their ideal of thoughtful consumption. These shoppers could be more receptive to "holiday sales" centered on values-based buying, such as Small Business Saturday and Giving Tuesday.
Segment Your Targeted Holiday Email List
The first stage in the email marketing approach is to segment the email list. Then, it is feasible to personalize communications to the individual mailing list, considering the customer's unique interests and purchasing histories.
Some of the effective ways to segment your email list are:
Interest - Keep the subscribers into different groups based on their former purchase categories or sections they browsed on your eCommerce website.
Year-round vs. seasonal shoppers - Always consider the motivations of a shopper when they visit the website so you can customize the frequency, content, and timing of the emails.
Coupons - Identify the customers who only purchase when offered coupon codes.
Use of Marketing Automation for Successful Emails
The most effective strategy to raise the open email rate is to reach the target audience at the correct time with the right message. For a festive email marketing campaign, marketing automation is your hidden weapon.
Marketing automation strategies for holiday emails can be as follows:
Set up workflows for abandoned cart automation - Holiday season is competitive, meaning abandoned cart emails are more vital than ever.
Use lead scoring - Build a strong consumer profile by leveraging customer engagement details. This way, you can determine which customers will most likely engage with your holiday email content.
Use welcome emails - The holiday season brings in more subscribers too. To maximize the number of new subscribers, create welcome emails to persuade customers to purchase.
---
---
Plan Your Holiday Campaign Schedule
It's usually a good idea to start preparing your holiday email campaign early, so you have the time to compile all of the necessary parts. However, you should avoid sending too many emails before the holidays as this can lead to email fatigue. In addition, customers dismiss emails sent too early.
Use of Festive Email Designs
You don't have to sacrifice your brand just because you want to invoke festive sentiments in your email design. It's time to experiment with the usual structure while also improvising with festive email graphics to catch your users' attention. Create attractive holiday email templates you believe will encourage recipients to click on the CTA while maintaining the brand's image.
Benefit from Weekend Sales
The two most popular weekend deals you must target in your holiday email marketing strategy are Cyber Monday and Black Friday.
Cyber Monday is the most popular online shopping day, followed by Black Friday. To warn their subscribers and prospective consumers, brands might begin composing emails as soon as feasible. It provides them plenty of time to prepare for their shopping trip. What was once a one-day sale has now been prolonged to many days or weeks. These sales are known for attracting a large number of first-time buyers. Therefore, weekend sales should be included in email marketing promotions, according to email marketers.
Offer Last-Minute Deals
What's the point of holiday shopping if there aren't any last-minute bargains? Seventy percent of buyers postpone their holiday gift buying until the final two weeks before the holidays. Sixty-four percent of last-minute shoppers plan to purchase in person because they are concerned an online purchase will not arrive on time. As a result, companies should continue to promote seasonal bargains until the holidays arrive. This is the greatest moment to encourage last-minute shoppers to complete their purchases.
Create a Landing Page for the Email Campaign
The landing page is the purchase page you want your consumers to visit. Focus on getting click-through traffic to your website's landing page instead of creating a new email marketing plan. People may use the website to locate the perfect present or take advantage of the offer highlighted in the email.
Send Follow-Up Emails Post-Holiday
There are two major reasons to send follow-up holiday emails:
To engage with new subscribers who joined your mailing list during the online sales. It's time to nurture them to become long-term customers
To return to normalcy for the new subscribers who now will look forward to receiving regular non-holiday emails
Customers who receive post-holiday communications are nine times more likely to convert than first-time visitors. As a result, you can increase sales in a short period of time.
Create an Early Bird Offer
The saying goes, "the early bird gets the worm," and email marketers are no exception. To promote their buying habits, early consumers should get promotional discounts. You may build a whole sector dedicated to first-time buyers. Customers who want to take advantage of the early bird offer should be added. You might, for example, provide customers with gift cards as an incentive. These are excellent incentives for clients primarily concerned with conserving money in preparation for holiday discounts.
Offer Free Shipping
Nothing makes a consumer happier than being able to save money on delivery. Customers who buy in quantity during the Cyber Monday or Black Friday discounts might get free delivery. For shoppers, free delivery is a major plus. People want to stretch their holiday spending as far as possible, especially as the holidays approach. If a consumer reaches a specific price point, giving free delivery is more likely to entice them to spend a bit more merely to achieve the free shipping barrier.
Include Countdown Timers
Countdown timer emails are the most effective technique to capitalize on customers' FOMO (fear of missing out) tendencies. As a result, when the Christmas season approaches, begin sending a series of countdown emails to your subscriber list, making them impulsive. You may send a range of countdown emails to promote sales and make the most of your holiday email campaign, from free shipping to a specified date to an offer that expires shortly. It will increase your return on investment and give you an advantage over your competition.
Offer a Special Holiday Giveaway
Every holiday is special. Why not make your email subscribers feel special and contribute to the feeling of belonging? Show visitors who missed last year's Christmas email marketing campaign how you might assist them in finding the ideal present. Offer a free promotional item or a buy one, get one free deal for new customers. Flash sales for insiders may also be a perfect holiday giveaway. Offer drastically reduced items for a short time only.
Encourage Shopping with Promotional Videos
Without a holiday video, the season wouldn't be completed. With promotional films, brands may target their customers ahead of time. If you're unsure about making a promotional video, don't be. It does not have to be costly. You may build a professional holiday-themed movie using a variety of technologies to convince clients to make the appropriate buy. It's an excellent way to interact with your consumers, even if you've never met them in person.
Show Appreciation for Loyal Customers
How often do you express gratitude to your consumers when they make a purchase? Loyalty awards for loyal consumers are in order throughout the Christmas season. Start with the exceptional discounts available to these clients. First, separate your list of devoted clients, those who buy from your business, utilize your services, and even tell their friends about it. Then, because the holiday period is all about gratitude, send personalized "thank you emails" to your regular customers to express your appreciation.
Season's Greetings for Celebration
Who says your email marketing plan has to be confined to the holidays? You can still have fun with your consumers throughout the holidays. You don't have to wait until the last minute to wish them a "Happy Holiday Season". Instead, try something different and send them emails about Thanksgiving, Halloween, Easter, and other holidays. Such emails demonstrate you wish your consumers a happy holiday in any season and other celebrations.
Create Appealing Abandoned Cart Incentives
Cart abandonment emails are a terrific way to boost sales during busy times. Customers who abandon their carts for complicated payment processes, excessive delivery charges, items being out of stock, and so on might be enticed back to purchase by offering significant incentives such as free shipping, product suggestions, and so on. Customers may also provide last-minute personalized bargains based on their search history and the products in their shopping basket. In addition, abandoned cart reminders sent to appropriate locations frequently result in purchases.
Create Urgency-Based Campaigns
During the festive season, urgency-based promotions are a terrific approach to increase sales and conversions. These are usually limited-time deals enticing visitors to act quickly. Visitors are encouraged to take advantage of amazing prices by using urgency-based ads before the sale finishes. The best approach is to segment your target audience based on the discount offer to continue to deliver appropriate suggestions in the future.
Don't Neglect the Footer
The email's footer is often the most overlooked section. Do not make this blunder. Instead, customize the bottom of your email for clever holiday email marketing suggestions that can charm your consumers and improve sales.
It's easy to forget about the footer once the email template is set up; but it's a great place to promote:
Holiday gift guides
Gift services
Last orders, final shipping dates, etc.
Also, the footer can be customized based on any upcoming holiday.
Make Email Campaigns Mobile-Friendly
Emails that are optimized for mobile are ideal! However, if you do not focus on mobile optimization, you may lose roughly 85% of your target audience. Mobile users account for 60% of all online sales. As a result, your holiday email marketing efforts must be mobile-friendly. It implies marketers must take advantage of:
Responsive templates that can resize according to the screen
Optimize the images to make them more appealing and help them load quickly
Write short but catchy subject lines keeping the key information intact at the start
Test Your Holiday Email Marketing Campaigns
You must test any holiday email templates you want to send to your email list. The good news is that you don't have to try your Christmas or New Year emails until the last minute. Instead, send a test email to check how the new holiday email template appears in style, text, and photos! Then, when the holiday season arrives, it assists you in determining which sorts of deals, goods, services, or campaigns will generate the most interest. For example, a split test may be used in a Christmas marketing effort. It aids in determining which message and CTA are most effective in converting visitors into subscribers and customers.
Wrap Up
It's fantastic that you learned everything there is to know about crafting a holiday email marketing campaign. We're sure you're excited to start planning your festive email marketing campaign right now. It's understandable to want to enjoy the celebrations while still responding to work-related communications. You'll be well on your way to designing and delivering emails that resonate with your subscribers. Let us increase your sales this holiday season using our email marketing advice.
Do you need your holiday email marketing efforts to pay off this season? Talk to a gardenpatch growth specialist today.